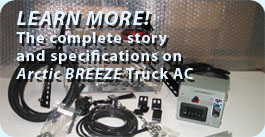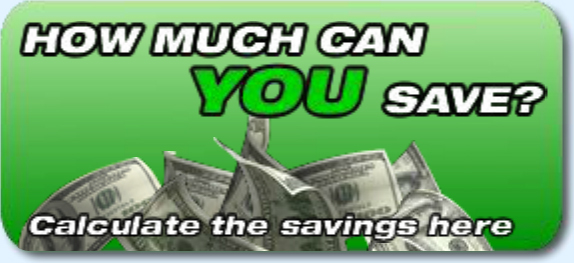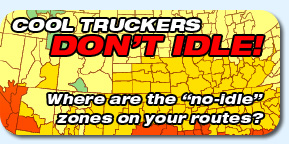 Arctic BREEZE Truck AC™ Helps Truckers Keep Their Cool & Increase Bottom Line

Owners know that tough new anti-idling laws in many states and provinces and the soaring cost of fuel and other costs have made their operations a lot more difficult by turning their cash flow into a trickle. This is especially critical when it comes to keeping their drivers cool while they're waiting for a load or delivery at the dock and for their long haul truckers who need to get a good night's sleep to stay sharp on the road.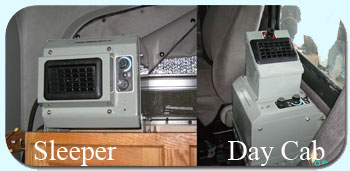 Arctic BREEZE Truck AC is delivered in complete ready-to-install kits for use in any make or model of day cab or sleeper cab.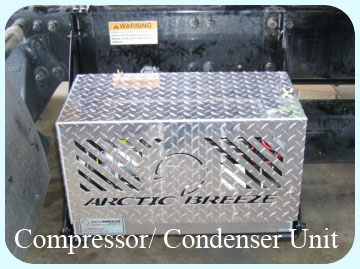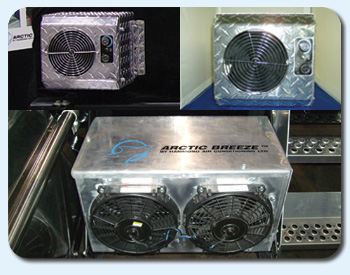 Images reflect various available options of the evaporator in checker plate aluminium and the condenser showing the dual fan setup.


Technical Specifications

Our 12V system draws 45 amps and provides 8000 BTU/hr of cooling and heating. Based on a duty cycle rate of 50-60%, this unit consumes only 350 watts/hr on average. (cooling)

The condenser/compressor box is made out of 1/8" aluminum and can be mounted directly behind the cab or hung off the frame rails with the brackets. It features a removable lid for easy access to all the components.

The evaporator can be mounted on a shelf, directly on the back wall of the cab, or in a storage compartment (for sleeper applications)

Refrigerant

R-134a

Power

12V

Power usage (max)

600 watts/hr

Power usage (avg.)

350 watts/hr

Minimum Alternator

180 amp

Dimensions – Cond

25"W x 14.5"H x 13"D

Dimensions – Evap

9.5"H x 9.5"W x 11"D

Air Flow

230 CFM

Cooling output

8000 BTU/hr

Weight

194 lbs (88 kg)

Sure starts! Each system comes complete with an integrated low voltage cut out switch to prevent draining the starting batteries.
Hammond Air Conditioning is pleased to introduce Arctic BREEZE Truck AC -- an innovative battery-powered 12V/DC air cooling system that can increase a company's bottom-line while keeping its drivers cool.
"Unlike diesel-powered auxiliary power units, this system is quiet, vibration free and uses sustainable energy resources," says Jeff Lemon, Hammond's Senior System Designer. Arctic BREEZE systems are available for both sleeper and day cabs. Systems come in a boxed kit with all necessary components included and can be installed in half a day. This also means that should you sell your truck, it is very simple to transfer the system to your new truck.
"Not only are Arctic BREEZE systems cost efficient with a potential payback in less than 12 months, they're quiet, environmentally-friendly and emit zero emissions," says Lemon. "No one will be knocking on your drivers' doors asking them to turn off their APUs."
Keep Your Cool With Arctic BREEZE
Designed to maintain the overall temperature of the truck cab once it has been shut down, the Arctic BREEZE cooling system draws a low 45 amps and provides 8000 BTU of cooling. Based on a duty cycle of 50% to 60%, the system consumes only 350 watts per hour on average. Powered by the recommended 6 Brute Force AGM truck batteries, Arctic BREEZE keeps your drivers cool and comfortable from 12 to16 hours, depending upon a number of factors such as the time of day, colour of the truck, window-tinting and how many accessories are running. Systems come with a battery protection switch that automatically shuts off the A/C at 12.2 amps, ensuring that your drivers will always have plenty of power to turn over their truck's engines.
Made of 1/8" aluminum, the compressor/condenser box can be mounted directly behind the cab or hung off frame rails with the brackets. A battery box with all necessary universal brackets for external mounting is an optional item. The system evaporator can be mounted on a shelf, directly on the back wall of the cab, or in a storage compartment.
According to Lemon, "Like all Hammond aftermarket products, the Arctic BREEZE Truck AC™ 12V/DC system has undergone extensive testing to ensure high performance and reliability."
Breathe New Life Into Your Bottom-Line
Depending on your drivers' idling practices, where your units are located and the nature of the trucks in your fleet, the payback period for your Arctic BREEZE systems can be somewhere between 6 to 12 months. System prototypes in fleet applications working in long hauls through Texas, Nevada, New Mexico and California report great results. According to one fleet manager, it is the tool that the industry has been looking for. "This system will give fleets the opportunity to provide their drivers with a good night's sleep and enjoy substantial savings at the same time," says Lemon.
Hammond created the following chart to simplify the payback calculations*:
1.

Fuel cost/ Gallon:
$2.95

2.

Fuel consumption at idle:
1.0 gal/hr

3.

1 x 2:
$2.95/per hour

4.

x # of hours/day idling:


8 x $2.95 = $23.60

5.

x the number of trucks x 10:
10 x $23.60 = $236.00

6.

x # of days/week:
5 x $236.00 = $1,180 per week

7.

x # of weeks:
50 x $1,180 = $59,000
"Hammond Air Conditioning is excited about the new Arctic BREEZE Truck AC™ 12V/DC system and we are pleased to offer it to the trucking industry, such a vital part of our economy, during these trying times of increasing legislation and rising fuel costs," says Lemon.
Use our convenient online calculator to see how quickly the savings add up when you shut down your truck engine and cool off with Arctic BREEZE instead.